I'm back!!! I've been very unmotivated to write on this blog in recent months. Not much of my beauty regime has inspired me to write here...until I made some incredible finds which have sparked my love of beauty again. I rarely find products that I feel actually make a big difference. That has changed with the discovery of some beauty gems.
I have been using hot cloth cleansers for a while now. I've used Liz Earle Cleanse and Polish and tried the No7 hot cloth cleanser. I think they are great but nothing could prepare me for the awesomeness of the Emma Hardie Moringa Cleansing Balm. It may be a little on the expensive side but the effect it has on my skin is amazing. I had seen it recommended by various youtubers and bloggers but was a little wary to shell out the cash for the full size until I'd tried it. I was able to purchase the Amazing Face Starter Kit from Debenhams for £23. It includes a 50ml pot of cleansing balm, dual action cleansing cloth and a 15ml Age Support Cream.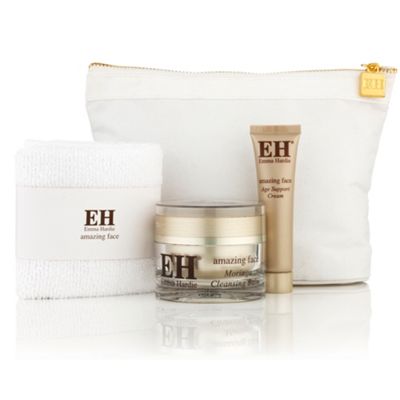 I have to say I have never been so impressed by a skincare product. My skin felt amazing after cleansing. It felt so clean and my eyes were not irritated at all. You only need use a tiny amount as you mix it in your hand with water till it becomes a smooth milky cream. It cuts through the thickest eyeliner with no problem without having to rub to hard.
I only bought this kit for the cleansing balm but thought I might as well give the Age Support Cream a try. Wow, beautiful soft skin like I have never felt before. It is my new best friend.
I do love the Liz Earle Cleanse and Polish and will continue to use it but this cleansing balm will always be in my cupboard. I've been using the Liz Earle during the week and switching to the Emma Hardie one on the weekend when I want my skin to feel extra special.
You can purchase the Amazing face Starter Kit from Debenhams

here

for £23. If you want to purchase the full size it will cost you around £38 and is available

here

.
I hope you will love it as much as I do. Watch out later on in the week to see what makeup products have turned my head.